We're a country struggling to reset from a global pandemic, and September was supposed to be back to school, back to work, back to normal. But it feels like we're still in a state of limbo. Why does it seem that so many women continue to bear the burden of this ongoing crisis? In Season 3 of All Ears, Abby interviews a slate of creative and courageous thinkers who are pushing back on old systems and reimagining what "normal" should look like.
New episodes are released every Thursday starting September 16, 2021!
All Ears is a production of Fork Films. The show is produced by Alexis Pancrazi and Christine Schomer. Wren Farrell is our assistant producer. Our engineer is Veronica Rodriguez and Bob Golden composed our theme song. The podcast team also includes VP of Production Aideen Kane. Our executive producer is Kathleen Hughes.
For Fork Films the All Ears team is Dominique Bouchard, Ameena Din, Sarah Feuquay, Tess Goodbody, Jess Kwan, Juli Kobayashi, Phil Nuxoll, Kat Vecchio, Angie Wang, and Codey Young.
Find us wherever you get your podcasts. Be sure to subscribe and spread the word!
Thoughts, questions, feedback? You can reach us at podcast@forkfilms.com.
Season 3 Episodes
---
Sara Nelson
No One Expects Flight Attendants to Be Militant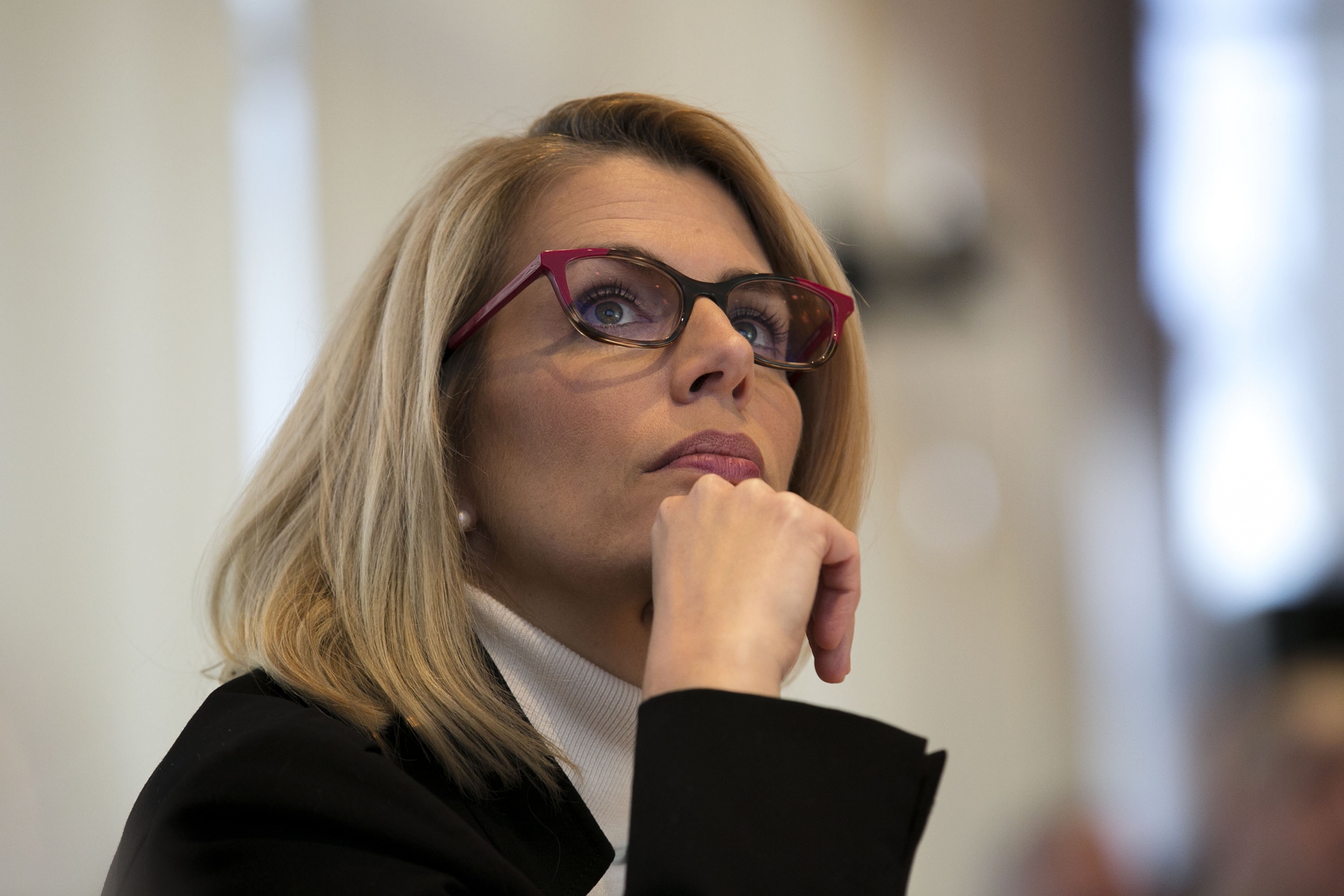 Sara Nelson: No One Expects Flight Attendants to Be Militant
SEPTEMBER 23, 2021 SEASON 3 EPISODE 2
This week on All Ears, Abby is joined by Sara Nelson, president of the Association of Flight Attendants-CWA. Sara is a force to be reckoned with. As one of the most powerful labor leaders in the country, she's devoted her career as a flight attendant and union member to improving the conditions of working people. At the height of the pandemic, she helped assure that aviation workers got paid and kept their healthcare, by negotiating for some of the strongest protections in the CARES act. And during the 2018-2019 government shutdown her leadership played a significant role in then-President Trump finally agreeing to end the shutdown. In this week's conversation with Abby, she talks about why, under capitalism, there must always be a struggle between workers and management, the power and necessity of unions, and why she loves to be called militant. Plus, her recollections from the United Airlines crisis room on September 11, 2001. Tune in for an exciting conversation about the power and potential of organized labor.
Follow Sara Nelson on Twitter: @flyingwithsara
---
Special guest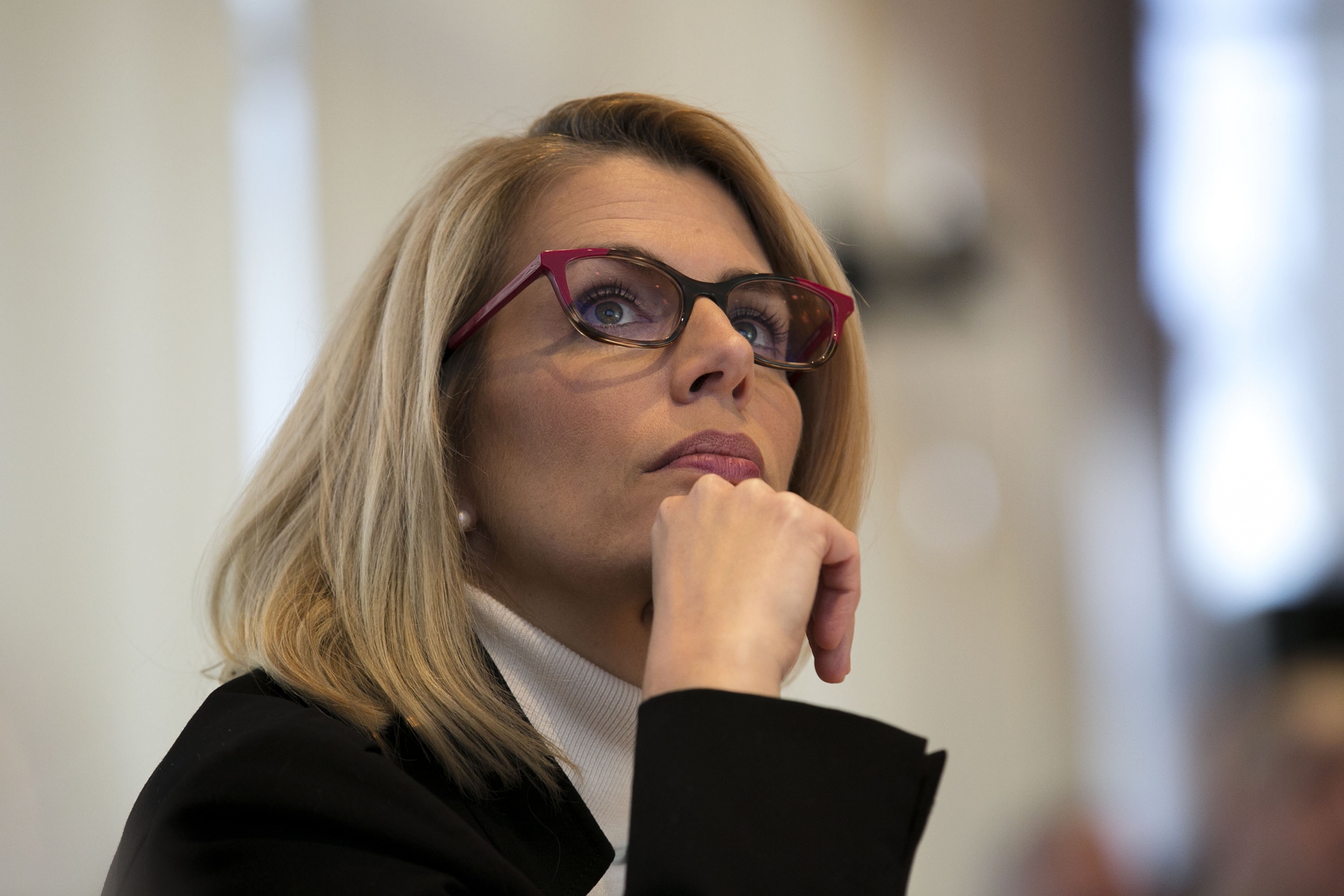 Sara Nelson
International President, Association of Flight Attendants-CWA, AFL-CIO
Sara Nelson has served as the International President of the Association of Flight Attendants-CWA, AFL-CIO since 2014, representing 50,000 of aviation's first responders at 17 airlines. She has been a union Flight Attendant since 1996 when she started flying at United Airlines. Sara designed the successful payroll support program that was a historic Worker's First relief program that kept aviation workers connected to their paychecks, healthcare, and other benefits for 16 months during the COVID pandemic, while banning stock buybacks and dividends across the industry and capping executive compensation for 2 years after the relief period ends. Sara believes Labor should set the agenda every time. The New York Times called her "America's most powerful flight attendant" for her role in helping to end the 35-day Government Shutdown, InStyle Magazine placed her on their Top 50 Badass Women list, and Fast Company put her on the cover of their Summer 2021 magazine with the headline, "Workers Strike Back." Sara often says corporations have money and control but workers have power, and the Labor Movement is for all working people. She encourages women everywhere to join unions and run unions. She believes Flight Attendants can play a pivotal role in building worker power with more public contact than almost any other job and connectivity around the world.
Tarana Burke
Sexual Violence Is A Type Of Death
Tarana Burke: Sexual Violence Is A Type Of Death
SEPTEMBER 16, 2021 SEASON 3 EPISODE 1
Season 3 of All Ears kicks off with a rich and varied conversation with Me Too movement founder Tarana Burke. Thought you knew the Me Too story? Think again! Burke's inspiring new memoir "Unbound: My Story Of Liberation And The Birth Of The Me Too Movement" is out this week. Burke has been in the trenches of movement work for the better part of two decades, transforming her own experience as a survivor into a vision for helping those in crisis to get help and those dealing with past trauma to heal. Working for so long at a grassroots level, primarily in communities of color, Burke tells Abby that her focus is for the benefit of all: "[My work] never, ever leaves anybody out. There's not a single white woman who will not benefit from my work being grounded in or centering black women and girls." Tune in for an inspiring conversation!
Find Tarana on Twitter: @TaranaBurke and @MeTooMVMT
Content Warning: This episode contains discussion of rape and sexual assault.
---
Special guest
Tarana Burke
Activist & Organizer, Founder of the Me Too Movement
For more than 25 years, activist and advocate Tarana J. Burke has worked at the intersection of sexual violence and racial justice. Fueled by commitments to interrupt sexual violence and other systemic inequalities disproportionately impacting marginalized people, particularly Black women and girls, Tarana has created and led various campaigns focused on increasing access to resources and support for impacted communities, including the 'me too.' movement, which to date has galvanized millions of survivors and allies around the world.
Season 2 Episodes
---
With the 2020 election as the backdrop for Season 2 of All Ears, Abby is excited to talk with people she considers "good troublemakers:" people whose work pushes back with imagination and courage against the status quo. We'll be intertwining big ideas and personal stories about gender, class, and race, and how we can take action to make changes in our cultural and political landscape.
Season 1 Episodes
---
Every Thursday on ALL EARS, filmmaker Abigail Disney speaks to a bold thinker from the front lines of America's inequality crisis to debate and explore the problems, perils and maybe even opportunities made possible by the global COVID-19 pandemic. She'll look to some of the most dynamic and analytical minds to ask: What have we learned? What haven't we seen yet? What's around the corner, and how do we seize this moment to come together as a nation and reset economic opportunity for the 99%?
Privacy Policy
Effective Date: March 22, 2017.
1. Introduction and Overview.
Introduction and Overview.  This Privacy Policy describes how Fork Films LLC ("Fork Films," "we," "our," or "us") collects, uses, and shares information about you and applies to your use of any online service location that posts a link to this Privacy Policy and all features, content, and other services that we own, control and make available through such online service location (collectively, the "Service"). This Privacy Policy does not apply to our information collection activities outside of the Service (unless otherwise stated below or at the time of collection).By using the Service, you agree to our
Terms of Use
and consent to our collection, use and disclosure practices, and other activities as described in this Privacy Policy. If you do not agree and consent, discontinue use of the Service.
Information Collection.

A. Information You Provide.

We and our Service Providers (defined below) may collect information you provide directly via the Service. For example, we collect information when you sign-up for our mailing lists, purchase or view our content, or otherwise communicate or transact with us through the Service.The information we collect may include Personal Information. "Personal Information" is information that identifies you personally (whether alone or in combination), such as your first and last name, e-mail address, and postal address. You may choose to voluntarily submit certain other information to us through the Service, including Personal Information, but you are solely responsible for your own Personal Information in instances where we have not requested that you submit such information to us.Where you purchase content through the Service, we use a Third Party Service (defined below) to process your payment information, including
credit card information. We do not have access to or store your credit card information.Personal Information once "de-identified" is not subject to this Privacy Policy and we and our Service Providers may treat it as non-Personal Information and use it without obligation to you except as prohibited by applicable law.

B. Information Collected Automatically.

We and our Service Providers may automatically collect certain information about you when you access or use the Service ("Usage Information"). Usage Information may include IP address, device identifier, browser type, operating system, data regarding network connected hardware, and information about your use of the Service. To the extent that we combine Usage Information with your Personal Information, we will treat the combined information as Personal Information under this Privacy Policy.

The methods that may be used on the Service to collect Usage Information include:

Log Information: Log information is data about your use of the Service, such as IP address, browser type, internet service provider, referring/exit pages, operating system, date/time stamps, and related data, which is stored in log files.
Information Collected by Tracking Technologies: Cookies, web beacons (also known as "tracking pixels"), embedded scripts, and other tracking technologies now and hereafter developed ("Tracking Technologies") may be used to collect information about your interactions with the Service or e-mails, including information about your browsing and activity behavior.

Cookies A cookie is a small text file that is stored on a user's device, which may be a session ID cookie or tracking cookie. Session cookies make it easier for you to navigate the Service and expire when you close your browser. Tracking cookies help in understanding how you use the Service, and remain longer. The Service may associate some or all of these types of cookies with your devices. Cookies may remain on your device for extended periods of time.
Web Beacons ("Tracking Pixels") Web beacons are small graphic images, also known as "internet tags" or "clear gifs" embedded in web pages and e-mail messages. Web beacons may be used to count the number of visitors to the Service, to monitor how users navigate the Service, and to count content views.
Embedded Scripts An embedded script is programming code designed to collect information about your interactions with the Service. It is temporarily downloaded onto your device from our web server or a third party with whom we work, is active only while you are connected to the Service, and deleted or deactivated thereafter.

For further information on Tracking Technologies and your choices regarding them, please see "Third Party Services, Social and Video Features, and Analytics" and "Your Choices" below.

C. Information from Other Sources.

We may obtain information about you from other sources, including Service Providers and Third Party Services, and combine such information with information we have collected about you. To the extent we combine such third party sourced information with Personal Information we have collected about you on the Service, we will treat the combined information as Personal Information under this Privacy Policy. We are not responsible for the accuracy of any information provided by third parties or third party policies or practices.

Use of Information. We may use information about you, including your Personal Information, for any purposes consistent with our statements under this Privacy Policy or as permitted by applicable law, including to:

Manage our Service and films;
Respond to your comments, questions, and requests, and provide customer service;
Send you technical notices, updates, security alerts, information regarding changes to our policies, and support and administrative messages;
Prevent and address fraud, breach of policies or terms, and threats or harm;
Monitor and analyse trends, usage, and activities;
Conduct research, including focus groups and surveys;
Improve the Service or other Fork Films websites, applications, marketing efforts, products and services;
Send you advertisements and communicate with you regarding our and third party products, services, offers, promotions, rewards and events we think you may be interested in (for information about how to manage these communications and marketing efforts, please see "Your Choices" below); and
Fulfill any other purpose disclosed at the time you provide Personal Information.

Sharing of Information. Our agents, vendors, consultants, and other service providers (collectively "Service Providers") may receive, or be given access to your information, including Personal Information and Usage Information, in connection with their work on our behalf. These Service Providers are prohibited from using your Personal Information for any purpose other than to provide this assistance, although we may permit them to use aggregate information which does not identify you or de-identified data for other purposes.We may also share information about you with third parties for any purposes consistent with our statements under this Privacy Policy or as permitted by applicable law, including as follows:

To comply with the law or other legal process, and where required, in response to lawful requests by public authorities, including to meet national security or law enforcement requirements;
To protect the rights, property, life, health, security and safety of us, the Service, the individuals involved in our films, or any third party;
In connection with, or during negotiations of, any proposed or actual merger, purchase, sale or any other type of acquisition or business combination of all or any portion of our assets, or transfer of all or a portion of our business to another company;
With our affiliates for internal business purposes;
With our affiliates, business partners, and other third parties for their own business purposes, including direct marketing purposes (California residents have certain rights set forth in "Your California Privacy Rights" below);
For purposes disclosed at the time you provide Personal Information; and
With your consent or at your direction.

Without limiting the foregoing, in our sole discretion, we may share aggregated information which does not identify you or de-identified information about you with third parties or affiliates for any purpose.

Sweepstakes, Contests, Promotions. We may offer sweepstakes, contests, surveys, and other promotions (each, a "Promotion") jointly sponsored or offered by third parties that may require submitting Personal Information. If you voluntarily choose to enter a Promotion, your Personal Information may be disclosed to third parties for administrative purposes and as required by law (e.g., on a winners list). By entering, you agree to the official rules that govern that Promotion, and may, except where prohibited by applicable law, allow the sponsor and/or other parties to use your name, voice and/or likeness in advertising or marketing materials.
Third Party Services, Social Features, and Analytics. Our Service includes hyperlinks to websites, locations, platforms, or services operated by third parties ("Third Party Service(s)"). For example, we may link to third party video services, such as iTunes or Netflix, in order to view our films. These Third Party Services may use Tracking Technologies to independently collect information about you and may solicit Personal Information from you.Certain functionalities on the Service permit interactions that you initiate between the Service and certain Third Party Services, such as third party social networks and video services ("Social and Video Features"). Examples of Social and Video Features include "liking" or "sharing" our content, watching embedded videos using third party video service technology, and otherwise connecting our Service to a Third Party Service. If you use Social and Video Features, and
potentially other Third Party Services, information you post or provide access to may be publicly displayed on our Service or by the Third Party Service that you use.Similarly, if you post information on a Third Party Service that references our Service (e.g., by using a hashtag associated with Fork Films in a tweet or status update), your post may be used on or in connection with our Service. Also, both Fork Films and the third party may have access to certain information about you and your use of our Service and the Third Party Service.We may use Google Analytics and other Service Providers for analytics services. These analytics services may use Tracking Technologies to help Fork Films analyze Service users and how they use the Service. Information generated by these services (e.g., your IP address and other Usage Information) may be transmitted to and stored by these Service Providers on servers in the U.S. (or elsewhere) and these Service Providers may use
this information for purposes such as evaluating your use of the Service, compiling statistic reports on the Service's activity, and providing other services relating to Service activity and other internet usage.To the extent we combine information from Third Party Services with Personal Information we collect directly from you on the Service, we will treat the combined information as Personal Information under this Privacy Policy. Otherwise, the information collected and stored by third parties remains subject to their policies and practices, including whether they continue to share information with us, the types of information shared, and your choices on what is visible to others on Third Party Services. We are not responsible for and make no representations regarding the policies or business practices of any third parties or Third Party Services and encourage you to familiarize yourself with and consult their privacy policies and terms of use.For further
information on Tracking Technologies and your choices regarding them, please see "Information Collected Automatically" above and "Your Choices" below.
Your Choices.

A. Accessing Your Information.

You may access, update, or remove certain information that you voluntarily submitted to us when you made a purchase through the Service by sending an e-mail to us
here
. We may require additional information from you to allow us to confirm your identity. Please note that we will retain and use your information as necessary to comply with our legal obligations, resolve disputes, and enforce our agreements.B. Tracking Technologies Generally. Regular cookies may generally be disabled or removed by tools available as part of most commercial browsers, and in some instances blocked in the future by selecting certain settings. Browsers offer different functionalities and options so you may need to set them separately.Please be aware that if you disable or remove Tracking Technologies some parts of the Service may not work and that when you revisit the Service your ability to limit browser-based Tracking Technologies is subject to your browser settings and limitations.

Your browser settings may allow you to automatically transmit a "Do Not Track" signal to online services you visit. Note, however, there is no industry consensus as to what site and app operators should do with regard to these signals. Accordingly, we do not monitor or take action with respect to "Do Not Track" signals or other mechanisms. For more information on "Do Not Track," visit
http://www.allaboutdnt.com
.

C. Analytics Tracking Technologies

You may exercise choices regarding the use of cookies from Google Analytics by going to
https://tools.google.com/dlpage/gaoptout
or downloading the Google Analytics Opt-out Browser Add-on. Fork Films is not responsible for effectiveness of, or compliance with, any third-parties' opt out options or programs or the accuracy of their statements regarding their programs.

D. Communications

You can opt out of receiving certain promotional e-mails from us at any time by following the instructions as provided in e-mails to click on the unsubscribe link or by sending an e-mail to us
here
with the word UNSUBSCRIBE in the subject field of the e-mail. Please note that your opt out is limited to the e-mail address used and will not affect subsequent subscriptions or non-promotional communications, such as those about your account, transactions, servicing, or Fork Films's ongoing business relations.

Your California Privacy Rights. California's "Shine the Light" law permits customers in California to request certain details about how certain types of their information are shared with third parties and, in some cases, affiliates, for those third parties' and affiliates' own direct marketing purposes. Under the law, a business should either provide California customers certain information upon request or permit California customers to opt in to, or opt out of, this type of sharing.Fork Films may share personal information as defined by California's "Shine the Light" law with third parties and/or affiliates for such third parties' and affiliates' own direct marketing purposes. If you are a California resident and wish to obtain information about our compliance with this law, please e-mail us
here
or send us a letter to Fork Films LLC, 25 East 21st Street, 7th Floor, New York, NY 10010 (Attention: Legal). Requests must include "California Privacy Rights Request" in the first line of the description and include your name, street address, city, state, and ZIP code. Please note that Fork Films is not required to respond to requests made by means other than through the provided e-mail address or mail address.
Children. The Service is intended for a general audience and not directed to children under thirteen (13) years of age. Fork Films does not intend to collect personal information as defined by the U.S. Children's Privacy Protection Act ("COPPA") in a manner that is not permitted by COPPA. If you are a parent or guardian and believe Fork Films has collected such information in a manner not permitted by COPPA, please e-mail us
here
or send us a letter to Fork Films LLC, 25 East 21st Street, 7th Floor, New York, NY 10010 (Attention: Legal), and we will remove such data to the extent required by COPPA.
Data Security. We take reasonable measures to help protect information about you from loss, theft, misuse and unauthorized access, disclosure, alteration and destruction. Nevertheless, transmission via the internet is not completely secure and we cannot guarantee the security of your information collected through our Service.
International Transfer. We are based in the U.S. and the information we and our Service Providers collect is governed by U.S. law. If you are accessing the Service from outside of the U.S., please be aware that information collected through the Service may be transferred to, processed, stored and used in the U.S. Data protection laws in the U.S. may be different from those of your country of residence. Your use of the Service or provision of any information therefore constitutes your consent to the transfer to and from, processing, usage, sharing and storage of your information, including Personal Information, in the U.S. as set forth in this Privacy Policy.
Changes to this Privacy Policy. We reserve the right to revise and reissue this Privacy Policy at any time. Any changes will be effective immediately upon posting of the revised Privacy Policy. Your continued use of our Service indicates your consent to the Privacy Policy then posted. If the changes are material, we may provide you additional notice, to your e-mail address.
Contact Us. If you have any questions or comments about this policy, please e-mail us
here
or send us a letter to Fork Films LLC, 25 East 21st Street, 7th Floor, New York, NY 10010 (Attention: Legal).